I picked up A.W. Tozer's The Knowledge of the Holy about six years ago and it made me tremble. I can't remember a book having so much power in its pages. I think it may be the best book I've ever read.
To that short, short list of tremble-inducing tomes, I add Bill McKibben's Deep Economy: The Wealth of Communities and the Durable Future. Why the quaking? Because McKibben captures in the short 232 pages of this book much of what I've spoken of here at Cerulean Sanctum. And he does it quite well.
When I blog about community, agrarianism, stewarding Creation, and living lives of deep meaning for the Kingdom of God, it's an intricate dance of ideas that sails over some people's heads.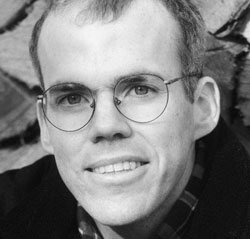 Someone we know well referred to my wife and me as "hippies" for some of the ideals we espouse that touch on these topics, and while we take that lovingly, we also understand that people don't fathom what we're talking about.
Bill McKibben understands. His book lays it all out in a way that concentrates the profound message: We need to ask ourselves if the lives we live in 21st century America have real meaning beyond consuming more.
Jesus Christ occupies the center of purpose. No human life finds purpose apart from Him because He made us to be Kingdom people who embody His very image. Our message to the world not only reflects in the words of Truth we speak, but the lives of justice and mercy that we live—His life, His truth, His justice, His mercy. For this reason, the Christian lives a life that is different, a life dedicated to loving God and loving our neighbor as ourselves.
Anyone who desires to live that life will rudely encounter the pragmatism, utilitarianism, Social Darwinism, and consumerism that fight with bloody tooth and claw against the Kingdom of God. None of those four worldview are compatible with true Christianity, yet the American Church suffers from their deadly infections to the point of lying in some spiritual hospital in a fevered coma.
Those worldviews own us, no matter how hard we American Christians say otherwise. If you read here long enough, you know that I believe we've varnished those worldviews with a thin coat of Christianity and called them redeemed.
But they simply can't be.
We are wasteful people who pillage the Creation the Creator told us to steward, and then we beg for more. We use spiritual language and manipulate the Gospel to our ends, calling on it to give imprimatur to our uncontrolled growth and need for more material wealth, no matter what the expense. As I noted a few weeks ago, a word exists for that mentality: profligacy.
Deep Economy is a book about profligacy and its deleterious effects. It explains why uncontrolled economic growth will not work on a global scale. It explores the psychological depression arising from desiring more and more stuff at the expense of our souls, our communities, and the world around us. It sounds the clarion call that our lives are out of whack and we're taking the planet down with us. It proclaims our obsession with the individual must be reversed so genuine community prevails.
Next week, I'll be exploring each major concept in Deep Economy. I'll also show why McKibben's analysis aligns with what we Christians know to be true from the Scriptures. Most of all, I hope I can sway a few doubters to see that another way to live exists, one that better reflects the heart of the Lord.
If you can find the book, pick it up and read it this weekend. And do so with an open mind and spirit. McKibben takes a middle of the road approach even when some of his talking points sound…dare I say it, liberal. If anything, though, those points may be the ultimate in conservatism.
Thanks for reading. Hold on tight…