And though a man might prevail against one who is alone, two will withstand him—a threefold cord is not quickly broken.
—Ecclesiastes 4:12
And behold, a lawyer stood up to put him to the test, saying, "Teacher, what shall I do to inherit eternal life?" [Jesus] said to him, "What is written in the Law? How do you read it?" And he answered, "You shall love the Lord your God with all your heart and with all your soul and with all your strength and with all your mind, and your neighbor as yourself." And he said to him, "You have answered correctly; do this, and you will live."
—Luke 10:25-28
I've not been actively reading other blogs the last two weeks, so I came to Jared Wilson's Gospel-Driven Church blog a week after his post "The Hard Stuff of Real Lives." It's a tough read because he asks whose fault it is (and why) when people fall away.
Go ahead, read the whole thing. It's deep enough that it drew me out of my temporary hiatus to post this.
One of my great concerns about the Christian blogosphere is that it's heavy on the vertical. By that I mean it emphasizes faith and doctrine almost exclusively. Hang around the Godblogosphere long enough and watch Christianity become a mental exercise. If only you think the right things you'll have faith and be successful in Christ.
But that's not true. Or should I say it's only partly true.
Yes, we need to have the right kind of vertical relationship with God. And what you hear mentioned as the cure on most Christian blogs—and in most churches, BTW—is that learning, receiving solidly-biblical preaching, praying, and so on will build your faith. And it will.
But it simply is not enough.
You can't read the Bible and not catch the horizontal element of Christianity. When the lawyer puts Jesus to the test, the Lord comes back with the well-known "love God and love your neighbor" answer as the fulfillment of what it means to be a Christian.
What bothers me, though, is that we have emphasized the "love God" part to the detriment of the "love your neighbor" part. Yet Christianity can't exist if we fracture Faith and what I call Family. The Faith portion we understand, but Family is just as important. That Family exists as the community of believers and those not yet believers. In other words, the people we see around us every day are Family.
Now the Bible makes it very clear that we Christians owe it to our fellow Christians to look after their needs first. Outside the Family of God, believers have a responsibility to the unbeliever in sharing Christ's compassion and His Gospel.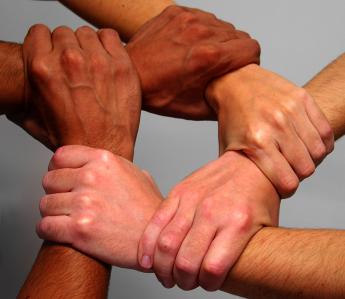 But for us already in the Church, we are a first line of defense for each other because that's how God operates in His Church.
The Lord set up His Church so that I have a responsibility to watch your back just as you have a responsibility to watch mine. That may sound like some gung-ho military mantra, but we ARE in a war, a spiritual one, and God has made it clear that we are a Body, not an Army of One. We are to maintain a deep, horizontal relationship with each other that mirrors our vertical relationship with God. In fact, the Scriptures say that a person who claims to love God but does not love his brother actually cannot love God at all. Sad to say, this awful pronouncement afflicts a large portion of the Church in this country because of the hyper-individualism we've embraced as self-sufficient Christians.
I recently read the book Deep Economy by Bill McKibben, and he emphasized that industrialism, as it is based on machines that eliminate human labor, had the side-effect of destroying our reliance on each other. Community is built when we labor side-by-side. Today though, many of us work in environments designed to eliminate community (cubicles, anyone?) I've said this for years at this blog: we have underestimated the cost to our communities (Family) by living the way we do. We must change, especially in the Church, if we're to satisfy the horizontal requirement of loving our neighbor.
Now to the meat…
Wilson touches on community at the very end of his post, but I wish to take it a few steps further. When we see people in the Church go down for the count, who lose their faith, who fail in discipleship, our natural inclination is to comment on the depth of their faith. And I think that's an evil response.
Why? Because the Bible tells us that faith can't exist in a relational vacuum. It has to exist in a community. When Jesus tells us to do two things that give life, those two are to love God (Faith) and love our neighbor (Family). When I see people get trampled on the road of discipleship, almost every time, they've been abandoned. They may claim that God abandoned them, but I would contend that it wasn't God. It was the Church who walked away and left them to die.
I'll go so far as to say that not a person reading this would last more than a year or two in his or her faith if left totally alone. That's for a reason, folks! God wired the Body to be a Body. I shouldn't have to quote the relevant Scriptures here, but we act like we don't know them, do we?
What then happens to the abandoned person when the time of testing comes? What happens when the Church looks the other way rather than get involved in the messiness of someone else's life?
My own Mom was there at people's doorsteps in the wake of tragedy. People found comfort in her ministrations. She got it. She understood the Gospel.
But when she was terminally ill, did anyone from her church come by? Hardly. What a sad, sad lesson I learned during that time. And when my Dad died unexpectedly in the middle of Mom's protracted demise, all sorts of people at his funeral shook my Mom's and our hands and told us that they would do anything we asked of them. But when we actually had "the nerve" to take them up on their offers, they fled faster than roaches when the light goes on.
And therein lies the problem.
Who's willing to walk with a soul-sick, hurting person to the extent necessary for healing to come in God's timing? Who? We're too busy adjusting our 401k investments, aren't we? We're too busy slaving so we can buy more junk we don't need, stuff that blinds us to the reality of the Kingdom of God! And then, when that abandoned person goes down for the count, we say, "Well, I guess he didn't have enough faith!" Or, "Well, he was deceived!" Or "He must not have been a Christian in the first place because he didn't last."
Why don't we ever turn around and ask, "Just how were we there for him in his dark days?" Why don't we ever ask ourselves where our faith was to lay down our selfish lives so a person who needed us to walk alongside could have the full benefit of our time?
See, we don't want to ask that question. It demands too much. It may mean we reconsider the entire way we live. In the end, it's easier to question someone else's faith than to confront our own indifference toward others.
One last confession and then I'll end this.
Since I've been blogging, I've made it a practice to write an e-mail now and then to check on some of the bloggers whose blogs I regularly read. I ask how they're doing and if I can pray for needs.
I've not been prepared for the results of that tiny effort. Without exception, I hear back that the blogger is in the midst of a dire need and their church just looks the other way. Without exception. Not one exception to my asking in all the time I've been doing this. I hear stories that would kill you of bloggers in desperate need who are left to twist in the wind because their church didn't lift one finger to help them. In many cases, their church actually worked to make their situation more difficult! Yet those churches will preach and preach and preach "the Gospel" but never at any point actually show it in practice.
How damnable is that? Pretty damn damnable, if you ask me. Who wants to have Romans 8:28 quoted to them while their brothers and sisters in Christ sit around with the God-given resources to help make all things work together for good, yet do nothing?
Vertical and horizontal—that's how God made us to function. Faith and Family work together in synergy. Love of God only works if we love our neighbor. If we're not prepared to stand by the person struggling with her faith, then we need to acknowledge that we failed to be Christians when that person needed us the most.
We may preach and prophesy. We may cast out demons. We may think great theological thoughts and expound mightily on the nature of Christian belief. But if we don't love our neighbor as ourself, all our religiosity is so much dung. We may point fingers at the person who couldn't finish the race, but in the end, what good is our own faith if we wind up as goats to whom the Lord says, "Truly, I say to you, as you did not do it to one of the least of these, you did not do it to me."
What is it going to take to get us to understand this foundational truth?