It's county fair week in my pastoral community.
When you live in the country, you step through a rift in time. Whatever life you once lived vanishes in a flash, and you wake à  la Rip Van Winkle in unfamiliar environs. But in the reverse of old Rip, you half expect to turn around and see Andy and Opie in black and white out back by the old fishin' hole.
Back in Mayberry's heyday, the entire community year revolved around the county fair. Youngsters primped their 4-H livestock,  fresh-faced young women coming into the bloom of maturity practiced their finest equestrian moves with their own personal Flicka, while their moms slaved in the kitchen, hoping against hope to beat that Edna Mae Krebs and her strawberry-rhubarb pie that takes home the blue ribbon year after year, "Bless her little heart—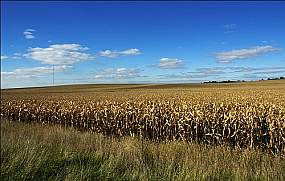 and I hope she gets bit by a rabid polecat after stepping on a rusty nail because heaven knows she's good, but she's not that good."
You know, what I'm talkin' 'bout.
Or maybe you don't.
Around here, 4-H rules, Flicka still rides, and Edna Mae Krebs continues to be the source of a lot of ground-down teeth amongst the womenfolk. It's fair week! Around here, local businessowners throw in the towel because, heck, no one shows up for work.  It's fair week! And the schools? Forget about it. Little Jess and little June are too busy making sure their stew rabbit plumps up nicely for the judges. The principal's got a bull he just sold at the cattle auction. School? Hey, it's fair week! Who's going to be Tobacco Queen this year?
When you live in the country, the local newspapers ain't like nothin' you read in the big city. The op-ed pages resemble a seminary debate, as the pastor of the Holiness Church takes umbrage with the editorial written by the Methodist pastor the week before, the darned liberal. And the pastor of the Pentecostal church complains that people today aren't like they were when he was growing up. Back then, people had no problems with a Tuesday night service, a Wednesday night service, AND a Thursday night service. Now you can only pack 'em in on Sunday mornings, Sunday nights, and Wednesday nights. The world's goin' to hell in a handbasket. And, of course, the general store is running a sale on handbaskets through the end of the month.
Probably won't be any elders' meetings at the churches because it's time to get the crop in. When you're a farmer, the pastor's just gotta understand that nothing stands in the way of the crop. God knows.
That cloud of dust? It's the combines harvesting the soybeans. If you look carefully, the corn farmers wear a crooked smirk because they timed their rotation right this year and made a killing. Too bad for the soy guys. Too darned bad.
Out here in the country, you ponder daily the fate of your mailbox, but when that's about the only thing you've got to worry about, life's not too bad. Your neighbor invites you over to hang out on the back porch, and the old farmer's wife across the way brings one of those orange cakes slathered in homemade whipped butter frosting with the little bits of pineapple and mandarin oranges in it. A cake good enough to set Edna Mae Krebs's teeth on edge, I'll tell you.
You cool your heels on that back porch and listen to the debates about whether Silver Queen is still king, or whether White Magic, Fantasia, or Silverado has got it goin' on now. And if you're the city-slicker—like me—you pay extra special attention because you know this is a life or death sort of discussion that might determine your ultimate eternal destination. Even if it is about corn.
It's fair week. And the Lord Himself is smiling down on us all.