I'm a real stickler for doing a job right. It's not that I possess this overactive sense of correctness, more that I'm a bit fed up with the lax attitude afflicting so many people today concerning their work. There's something about having to call a business six and seven times in order to get a job done at all, much less done right the first time.
For the first time in the history of my freelance writing business, I missed a deadline. Now yes, I did call the client a few days before the deadline to ask for an extension (which was granted graciously), and yes, I did get the work in the day after my original deadline. But still, in three years I'd never missed a deadline.
Now sure, anyone who works has to rely on others for help or information to meet the demands of his job, and this is often where the breakdown occurs. But an excuse is an excuse, and I sure hear a lot of excuses nowadays.
What really galls me is when a company hides its sloppy work (and lackadaisical attitude toward completing that work) behind a big ol' ichthus symbol. They'll slap that fish on their Yellow Pages ad, paint it on their trucks, and scream to the world,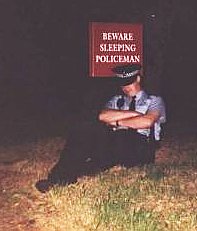 "I'm your brother in Christ, y'all can trust me." Or when something goes wrong and doesn't get righted, "Grace, man, grace!"
I'm a small business owner who just happens to be a Christian, so I try really hard to give my business to fellow Christian businesspeople. Hey, I can commiserate. But because I uphold an extremely high standard for my own work, I expect the same from the folks I hire to help me.
I wish I could say I've never been disappointed in the Christians I've hired. Truth be told, my experience has been so bad that I'm delighted when someone actually does the work right!
Isn't that a terrible thing to say?
Whatever you do, work heartily, as for the Lord and not for men, knowing that from the Lord you will receive the inheritance as your reward. You are serving the Lord Christ.
—Colossians 3:23-24
The depressing truth about that passage is a lot of Christian business owners excise it from the Scriptures. If not by taking an X-acto knife to their personal Bibles, then by failing to heed it in practice.
My church hired a Christian business to do the church's pictorial directory and it took months of cajoling for that company to finally turn in their effort. I kept asking our church secretary whether she would like me to mention the company by name in a post like this one, publicly excoriating the company for not giving two hoots about delivering on their promises. She told me to hold off. Nine months after the fact, we finally got our directories.
I wonder how Christ was honored by that company's actions.
What we are outside of church on Sunday mornings matters. If we're not publicly exemplifying the Christian walk, then what are we doing? Shouldn't we be doing our best at all times and in all places because of the Lord we serve?