My son's been playing soccer at the YMCA this last year. He's now on his third team. He played on two 5-6 year old teams, then graduated to 7-8 this year. Even then, he's barely seven.
We had our first game of the season today, and it was clear to me that he's outclassed. His first year he scored a goal in the last game of the season, and I could not have been prouder. His second team showed him improving his skills; he scored three times for that team. From what I saw today, he'll be lucky if he gets a dozen good kicks in the entire season—and by that I mean making actual contact with a soccer ball. A goal seems almost ludicrous to expect.
In previous seasons, the Y fielded about six 3-4 yr. old teams, four for 5-6 yr. olds, two for 7-8 yr. olds, and two 9-10 yr. old teams. This season, they couldn't get any 10-yr. olds at all to play and could not even fill up their 7-8 yr. old teams. That means we have only two 7-9 yr. old teams.
The Y must compete against SAY and Select soccer in our area. The Y has one practice and one game per week. SAY and Select have two practices and two games per week. (Now imagine having two or more kids in those programs! Is it any wonder we're so ridiculously busy!)
I have to be realistic. My son, no matter how hard he works, may simply lack the inherent talents he needs to play in those two highly-competitive leagues. But what makes it sad for me is the reality that parents don't want their kids to play in the less competitive Y league because (I believe) they think their own kids will never play for USA Soccer and win that elusive World Cup unless they shun the less competitive Y program and go for the REAL kids' soccer leagues.
Here's to ratcheting all of life up a notch or two. (For some reason the phrase "metal fatigue" keeps popping into my head.)
I hate Darwinism, especially Social Darwinism. The idea of the Selfish Gene theory driving all that we do, that our mantra for life is reduced to survival of the fittest, just makes me nuts. And what makes me even more despondent is that, too often, Christians are the ones driving that Excellence At All Cost mentality. So much for fun, fairness, and good sportsmanship. It lost out to Kill or Be Killed—in pre-tween soccer.
It seems to me that the Gospel of grace stands in stark opposition to this non-stop treadmill of competition that drives our lives. If nothing else, it demands we seek justice for the oppressed. Anymore, the oppressed may very well be anyone who isn't deemed "a winner." While I'm definitely not into the highly PC idea that we forgo having winners and losers in sports to shield our children's fragile egos, I don't think we have to naturally fall into the other extreme. We've made every aspect of life into a competition, and that's simply evil. In our free country, we've traded political oppression for social and economic oppression. And let's be honest: that may be the worse trade. At least in the politically oppressed nation, it's only the government that's against you. In ours, everyone is.
The Bible says this:
Whoever closes his ear to the cry of the poor will himself call out and not be answered.
—Proverbs 21:13

The soul of the wicked desires evil; his neighbor finds no mercy in his eyes.
—Proverbs 21:10

God has taken his place in the divine council; in the midst of the gods he holds judgment: "How long will you judge unjustly and show partiality to the wicked? Selah. Give justice to the weak and the fatherless; maintain the right of the afflicted and the destitute. Rescue the weak and the needy; deliver them from the hand of the wicked."
—Psalms 82:1-4

"In all things I have shown you that by working hard in this way we must help the weak and remember the words of the Lord Jesus, how he himself said, 'It is more blessed to give than to receive.'"
—Acts 20:35

He has told you, O man, what is good; and what does the LORD require of you but to do justice, and to love kindness, and to walk humbly with your God?
—Micah 6:8
Last week, I discussed issues facing men. One of the fallacies that the modern Christian men's movement upholds with religious fervor is the power of the strong.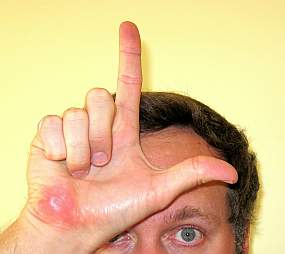 But in the Bible, on the whole, strength is only good when God wields it. When Man throws it around, people wind up crushed. Sadly, too many of us root for the crushers rather than defend the crushees.
When we speak of justice, we must remember that justice is for losers. As Christians, we're to minister justice on behalf of the losers of this world, the ones who cannot keep up, the ones who do not have the strength to carry on. As much as we rant about righteousness, I hardly ever hear Christians begging to be more just in their hearts.
But David says this about God:
Righteousness and justice are the foundation of your throne; steadfast love and faithfulness go before you.
—Psalms 89:14
Justice is one of the pillars of God's throne. Heaven itself is established on justice! Why then do we ignore justice in our lives? Why do we American Christians throw in our lot with the popular and not with the ignored? Why do we love winners and hate losers? Why is our theology based on Social Darwinism and not on justice for the weak?
If the Church in this country is doing justice right anywhere, it's in the anti-abortion movement. We've got that down to a science. Good for us. I hate to think what it would be like if we ignored that justice issue.
But what is the Christian's obligation to workers crushed in the wake of unjust business practices? What is the Christian's obligation to the children who go unadopted because they are the wrong age, or have a learning disability, or simply aren't good looking enough to make it in a culture obsessed with appearances? Does God not hear their cries for mercy?
I cannot say that I love my neighbor if I do not seek justice for him. The two go hand in hand. Yet when was the last time you heard this preached from your church's pulpit?
Consider the following:
Rescue those who are being taken away to death; hold back those who are stumbling to the slaughter. If you say, "Behold, we did not know this," does not he who weighs the heart perceive it? Does not he who keeps watch over your soul know it, and will he not repay man according to his work?
—Proverbs 24:11-12
God does not care for our excuses. No, our justice will never be as perfect as His, but He still calls us to fight on behalf of others.
One last Scripture from the lips of Jesus:
You will be hated by all for my name's sake.
—Luke 21:17
You see, we Christians should understand that the world sees us as losers. For this reason, how can we not understand justice? How can we ignore the plight of those who cry out for justice?
I have to wonder if our lack of concern for justice has turned us into friends of the perpetrators of injustice rather than friends of God the Righteous Judge.
How will that look on the Day of Ultimate Justice?