Tuesday, I wrote on the need for us Christians to understand that community and relationship with others is at the core of who we are as Christians, especially as it relates to the Great Commission and meeting the needs of others. You simply can't have a ministry without people.
Wednesday, The Wall Street Journal ran a sidebar column that absolutely blew my mind. It shows exactly what we Christians are up against when it comes to fighting for depth in community. I almost never reproduce an entire article, but this one ("What's Hurting America? Widespread Homeownership") contains mind-boggling assertions in nearly every sentence:
Widespread homeownership has proven benefits for the nation but the Atlantic's Clive Crook says it brings some serious economic drawbacks with it. Citing research from Warwick University economist Andrew Oswald, Mr. Crook says the main problem with homeowners is that they are less mobile than renters. Less willing to leave their homes for greener pastures when the local economy falters, homeowners slow the nation's economic growth and exacerbate unemployment issues by staying put. Communities of homeowners also often suppress new development by calling for new zoning rules.

On the plus side, homeowners are more invested in their communities, more likely to vote and work harder to improve their neighborhoods, but the overall societal good in homeownership isn't clear-cut, Mr. Crook says. To that end, he questions the wisdom of the mortgage-interest tax deduction, a subsidy set up to ostensibly encourage widespread homeownership.

Mr. Crook said the deduction often promotes over-borrowing and higher spending, thus artificially increasing home values and placing borrowers in greater financial risk during downturns, such as the current housing market crunch. On a broader level, higher investments in housing †" fueled by the tax deduction — come at the expense of investments in areas that expand the economy, such as commercial building and spending on business equipment, he says. — Troy McCullough
This is what we Christians are up against. If we fight tooth and nail to preserve our communities, we're labeled "malcontents" for doing so.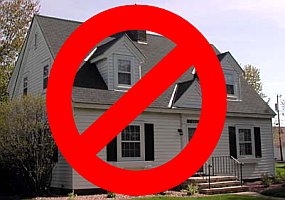 We "exacerbate unemployment issues by staying put" and cause untold hardship fighting for zoning laws that restrict sprawl and consumerism.
Unbelievable.
Want to hurt the Church in this country even more? Increasingly force congregants to move every few years to chase jobs.
Want to bring most ministerial works within a church to a standstill? Keep changing the mix of people in the church so the wheel must constantly be reinvented.
At least nomadic tribesmen stay together as a tribe, but the kind of thinking listed in that article pretty much ensures alienation and disconnection.
Americans are already some of the most mobile people in the world. Studies show most families stay in one spot for less than seven years. Multiply that by a hundred families in a church and it's no wonder little gets accomplished for the Kingdom. Everyone's constantly on the move. People don't get extended years ministering Christ to each other or to their communities.
This constant nomadic existence chasing fleeting jobs from one part of the country to another is why the Church in America MUST start speaking to issues of work and the revitalization of local and regional economies. The world is telling us that we can't be good citizens if we want to put down roots and minister for years in the same community.
I'm not saying that we petrify in one spot. Even Jesus said that those of us who leave houses and lands for the sake of the Gospel will be blessed. Still, I suspect that most people in my town aren't born again, so what is my obligation?
If my living situation is so transitory that I never truly get involved to any depth in the lives of those around me, then I'm less effective as a messenger of the Gospel. Just the disorientation of having to adjust to a new place means people who move are preoccupied with everything BUT ministry. The amount of bureaucracy and paperwork alone that accompanies moving within the same city is a nightmare, much less chasing jobs from city to city. That constant disequilibrium is the world's way of distracting us from what truly matters.
We Christians have got to get serious about creating our own alternative/underground economy. We've got to be better networked so that people in our congregations don't have to leave town to find work. We've got to start thinking of innovative ways to bring in income, even if it means exploring communal living arrangements that eliminate our need to duplicate goods to survive . If we can be freed of the need for the kind of jobs that force us to move from town to town looking for work, then let's start working toward that goal.
I keep hoping and praying that someone on the national Christian stage will start speaking up about these issues. They play into the busyness that is crippling our effectiveness as the ambassadors of Christ in a dying world. If we're constantly having to plan what city we're going to move to next so we can follow the jobs willy-nilly, we'll be distracted and ineffective our entire lives.
And that's just what the Enemy wants.
(In similar news, it looks like we've been lied to for years about the lack of engineers and scientists in this country. If anything, there's a glut. This hasn't stopped Congress from continuing to demand H-1B visas to bring in more foreign workers to displace American engineers and scientists. I've been saying for years that the shortage of tech workers is a lie. Now the lie comes out. I think our government owes us former tech workers an enormous apology. If I had a Benjamin for every tech worker I've met who was forced into a nomadic existence to find work, or who bailed from tech altogether, I could've retired by now.)