Beyond the recent lack of posts here at Cerulean Sanctum, another series of silences continues to blanket the American Church. I've written about them before, but I want to address them again, if only to keep the topics fresh in people's minds. These issues matter. Our lack of conversation in the Church about them on any sort of national level bothers me to the extreme. What we don't talk about says as much, or more , as what we do.
It would be fine if I could ignore these problems, but I can't. The main reason is that they  confront me personally every day.
I live in what is called penturbia by demographics experts. My neighborhood straddles that fine line between rural and suburban, with a leaning toward the former. My neighbor across the road harvested his corn last week. That tells you a lot of what you need to know, though most of us on my road are not reliant on farm income for a living.
Greater Cincinnati has maxed out growth in its northern suburbs (which used to be farmland 20 years ago), and the big push was supposed to be toward the east, where I live. That push was starting before the economic downturn. The big news was the announcement of a WalMart coming to my little town. That WalMart hasn't come is now the new talk.
Today, I drive along a road with an increasing number of homes for sale. Worse is the rise in homes left to the elements, abandoned.
Few things disquiet me more than an abandoned home. Once, a family lived there and filled that house with life. Now it sits like the dessicated remains of a bug sucked dry by a spider.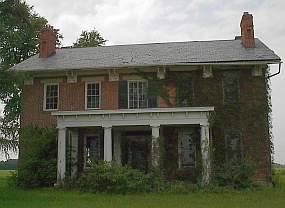 Grass grows wild. A window blind hangs half open like the eyelid of a corpse. And inside, nothing but cobwebs and emptiness.
The dead shells of homes litter my road, and I wonder where the life that filled them vanished to.
What bothers me more is that no one seems to wonder with me. I've heard no sermons on this, read no blogs on this topic. No one in the Christian community has brought up the subject of families that are here one day and gone the next. No one asks how awful it must have been that someone up and left a house behind to decay. No one asks whether anything could have been done to keep that house filled with life.
Concerning the homes on the market, I wonder how many For Sale signs were stuck in the ground reluctantly. I wonder if there's a family out there that had to chase jobs to a more economically stable state. I wonder if they are being bled dry by owing on two mortgages as their home here sits unsold month after month. I wonder if the breadwinner chased a job, even though it pays less, and now that unsold home is an albatross that more than undoes the gain of a move. I wonder how many families would have been better off staying put, but the panic of unemployment forced them into a decision that ended up working against them in the long run. I wonder how many marriages will end because of that "rock, meet hard place" decision.
I overheard a conversation on a cell phone two days ago. A middle-aged woman was talking to someone about a young man who lost his job, chased a job to another state, lost his job there, was paying two mortgages, lost his wife, lost custody of his kids, got buried in child support payments, then killed himself. I wonder if that conversation is becoming more common.
And I wonder why no one seems to care that it might be.
Our county fair was last week. It's a big deal around here. Kids get the whole week off from school because so many have animals and 4H projects they show. Again, this is still a place where people make a living off the land and its bounty.
I ran into several people I know there who were part of a group my son and I belonged to. I use the past tense because none of us seemed to know what happened to that group. It just petered out, another institution whose well went dry.
When I look at the social fabric of this country, I can't help but notice it's threadbare and full of more and more holes.
My family has not had a good track record of late in maintaining ties in small groups. And that loss is not by our choice, either. Groups just seemed to wither and die. Where we used to be highly connected, we now are a part of only one small group, which meets erratically.
While that is a Christian group, I'm beginning to wonder if finding some connection in a group that has no pretenses toward anything religious is the answer. At the same time, even entertaining that thought bothers me. Many of those groups are dying just as quickly, if not quicker.
I believe we Christians are too isolated within our ghettos, yet at the same time I wonder about the viability of the ghettos we're in. And while the other guys' ghetto may look good, perhaps it's more sick than ours.
So, I wonder if we Americans have reached a place of no return. I wonder if it's indeed possible to recover what we have lost—and we have surely lost our vitality, if not our hope. Yet.
And more than anything else, I wonder why we don't talk about these issues in our churches. I wonder why those Christians with a national stage say nothing. I wonder if we devote so much time to fighting the culture wars because they are easier to fight than to answer the questions I've raised here in this post .
Perhaps we are all just a little more afraid than we care to let on. Only this can explain the dreadful silence.