Over at Focus on the Family, someone is thinking. That usually spells trouble.
Ha! I jest.
Jim Daly wrote a piece about why young people abandon the Faith ("Ten Reasons Kids Leave the Church"). It's not a bad postmortem. Many of those reasons are decent secondary excuses. They play well.
What doesn't play well is the real reason why youth leave the Church:
Kids today look at their parents' Christian faith and see that it changes nothing.
That one's not in Daly's list. And probably for a reason. Because it asks those of us of parenting age to change the way we live because of what we say we believe.
Kids are not stupid. Because we live in a therapeutic culture where everyone is aware of the world's, the nation's, the state's, and their own individual problems and the need to address them, kids are constantly aware of talk vs. walk. Constantly.
Every Sunday, kids go to church, hear about the way we're supposed to live as a Church, and then they go home and witness not one iota of that message being lived. Nada.
Sure, mom and dad may pray and read the Bible, but what part of their life is actually changed by doing so? In what ways are their Christian lives at odds with the World at all? In what ways does anything they believe change their community for the better?
Kids are highly aware of B.S. This generation can spot hypocrisy like no other generation. We live in a cynical culture that is always taking a look at reality versus talk and applying a hammer to it all. Anything that survives a bashing is worthy of a further look. Anything that doesn't, well…
Sadly, Christianity is not holding up. The reason? Kids don't see that the beliefs of the generation that came before them make a lick of difference.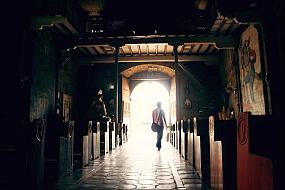 They HEAR an ideological distinction espoused, but they don't see it lived.
They HEAR about the Church as a countercultural community, but they don't experience it personally.
They HEAR about a mission, but their parents don't center their lives around that mission.
They HEAR about a relationship with Jesus, but they don't see what that relationship changes, because it certainly hasn't changed their parents' way of life.
So what do kids do? They toss it all. Because it's irrelevant. Better to join the Sierra Club. At least it ACTS on what it says it believes.
There is no greater disconnect in a church than the wildly committed youth group that does mission projects, helps the poor, evangelizes, and on and on, but then those committed kids see their parents doing none of those things.
The message sent to those young people by their parents: That "Jesus stuff" doesn't really matter in the end. It's something you do before you do the REAL work of being an adult. And that REAL work of being an adult is to keep your nose clean, bolster the status quo, and settle into a traditional American Dream lifestyle.
Now, I'm going to throw one more log, a big one, on this fire.
This generation of children has seen no genuine Holy Spirit revival. For the most part, the real gifts of the Spirit are not practiced before them.
Sure, in Pentecostal and charismatic churches they've heard a ton of prophetic words that didn't come to pass, and words of knowledge that were off, and on and on, but the REAL gifts are outside their experience. They haven't been shaken to the core by a genuine move of God either.
And in those churches that don't believe that "stuff," the kids learn that Christianity is just something you think. It's all in your head.
Parents who don't live the faith and a powerless church.
I want to leave too. Don't you?