Our neighbors had a 17-year-old dog, Hickory. I say had because while they were on vacation and the dog was being cared for at home by others, Hickory wandered off and has not been seen since.
It's common for sick and dying animals to wander away. They separate themselves from their normal world and find a quiet place elsewhere to lay down and die. We all suspect that's just what Hickory did.
While it's a sad thing to lose a beloved pet that way, it's even more heartrending when a person wanders off to die. When people wander away, it's not usually to due to a terminal illness or decrepitude. Instead, they wander off to die emotionally or spiritually.
I'm sure if God gave me eyes to see the numbers of people I've encountered in my life who have wandered away from Him, I'd be staggered. As it is, I already know too many.  I'm sure you do , too. (If not, consider reading this past post and follow the main link in it to see if your memory gets a refresher.)
Jesus had this to say:
What man of you, having a hundred sheep, if he has lost one of them, does not leave the ninety-nine in the open country, and go after the one that is lost, until he finds it?
—Luke 15:4
I'll go even farther than Jesus does with his illustration, which is about seeking the unsaved, and say that while a lost sinner who remains lost is a tragedy, nearly as bad is a believer who wanders away.
And what is our responsibility to those nameless people in our churches every Sunday who are there for a few months and then are gone, never to be seen again? What is their story? Do we even care to know it? Perhaps if we had, they would not have wandered away.
We live in a world that would prefer that the weak, the disabled, the stunned, and the emotionally shattered would just wander away and die like some animal on its last legs. Better that they do it out of sight than we have to bear with their prolonged downhill slide.
Yet it was those very people, the ones the Romans (who valued youth and virility) ignored and left to die, who were cared for by the early Church. Most historians agree that the exponential growth of the early Church in Rome came because it refused to let the marginalized and weak go ignored in their time of need.
Consider the Best Picture winner of 1978, The Deer Hunter (Spoiler Alert!):
Nick, Mike, and Steven are close friends from a steel town in Pennsylvania. All three ship off to fight in Vietnam, with all three captured and tortured by the Viet Cong. The method of psychological torture? All three are forced to play Russian roulette for their VC captors. When the trio create an opportunity to escape, only Nick is able to board the rescue 'copter, with Mike and Steven left behind. In the attempt, Steven's legs are badly damaged. The enemy on their tails, Mike manages to carry Steven to safety in friendly territory. Nick, meanwhile, vanishes.
At war's end, Steven winds up in a home for disabled vets. Mike wanders the seedier side of Saigon and glimpses Nick in the gallery of a gambling hall where people play Russian roulette for money. The two don't meet.
Eventually, Mike returns home. He reunites with Steven, only to hear that Nick has been sending Steven huge amounts of money. Mike knows how. Desperate to save his friend, he returns to the gambling hall where Nick is playing Russian roulette. To speak with Nick and convince him to come home, Mike must play Russian roulette too.
I'll leave the ending for you to see.
Mike wouldn't let Nick wander away. He risked his life just to speak with his friend,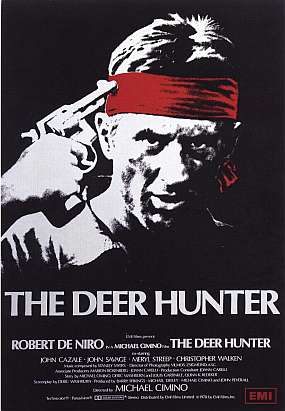 who had, by then, been reduced to a shell by his handlers and the psychological torment he'd endured.
If anyone in this world is equipped to go into the hellholes of life and reach those who have wandered away, it's the Christian.
Yet what is the answer most often given by Christians to the question Why do other people wander away? I know I have heard the most common answer more often than I can count: "Because their faith is weak."
It's a simple enough answer, isn't it? The only problem is that it's a simplistic answer, the kind that bears little of the humility of genuine Christian love and more of spiritual pride. It's the answer of dispassionate church boards, elders who only love status, distracted church members, and tired pastors who long ago stopped caring.
In the Kingdom of God, what is true to the heart of the Lord runs counter to conventional wisdom and simplistic answers. When posed with the same question of why other people wander away, the true Christian responds not only in humility, but also with an answer that begs a deeper question: "Because my faith is weak."
See, anyone can rationalize why other people fail, leaving them to wander away unmissed, but it takes someone who believes in a big God to put a figurative gun to the head to ensure one of God's lost sheep doesn't wander away to die.
Greater love has no one than this, that someone lay down his life for his friends.
—John 15:13