"None is righteous, no, not one;
no one understands;
no one seeks for God.
All have turned aside; together they have become worthless;
no one does good,
not even one."
"Their throat is an open grave;
they use their tongues to deceive."
"The venom of asps is under their lips."
"Their mouth is full of curses and bitterness."
"Their feet are swift to shed blood;
in their paths are ruin and misery,
and the way of peace they have not known."
"There is no fear of God before their eyes."
—Romans 3:10a-18
When [Jesus] went ashore he saw a great crowd, and he had compassion on them, because they were like sheep without a shepherd. And he began to teach them many things.
—Mark 6:34
Several years ago, I wrote a post called "Trying to Get By," wherein I attempted to chronicle the most basic fact of the human condition: most people are just trying to get by.
Time has not tempered this impression. If anything, it increasingly drives how I think about people.
Everyone sins. Everyone does "bad" things. Everyone enthrones himself or herself at the center of the universe. Christians believe this is because mankind rebelled against God and tried to become gods themselves. And we got what we wanted—to a point. Obviously, that rebellion did not work out well and continues to fail miserably. One of the reasons I'm a Christian is that the Christian worldview explains the mess we see in this world better than anything else does.
The Book of Romans quote above pulls together several passages of the Old Testament. It also pulls no punches in its tragic description of badly messed up people. People like you and me.
In the passage from Mark, Jesus surveyed the great mass of us and understood our lostness, our condition as brainless sheep, wanderers in search of something we can't understand.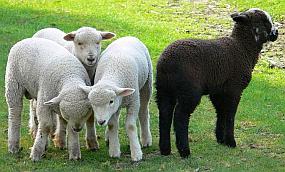 And that goes back to my idea of people just trying to get by. Lost sheep will do whatever it is that will sustain life for just one more day. That sheep finds a way to cope. Even if that coping mechanism barely ranks on the scale of great coping mechanisms, it will employ that method so long as it sustains—because that sheep usually doesn't know any better. With that flawed coping mechanism, it got through one more day, and that's all that matters. No sense exploring something better if that mechanism worked.
In truth, that's where people are. If lies worked, they will use lies. If truth worked, they will use truth. If sex, drugs, and rock & roll worked, then sex, drugs, and rock & roll it will be. For most people, the words of John Lennon do indeed guide them:
Whatever gets you through the night, 'salright, 'salright.
I think the only way that Christians can understand people is if we acknowledge that all the wrong we see in the world is due to the poor, sinful coping mechanisms of broken people just trying to get by. People use mechanisms that God warns never to do. They do stupid things not with intent to hurt others but because they seek to keep themselves from hurting somehow, even if that coping mechanism only makes the hurt worse in the long run. In that moment, that defective, deficient way sustained just enough, regardless of the destructive wake it left behind.
None of this is to pretend that organized evil does not exist. But even organized evil as expressed through human beings usually starts at the level of just trying to get by.
When we talk about ideological differences between people, we need to understand that one reason others hold a different view from us is because an alternate coping mechanism worked for them. In most cases, it's all they know. To us, that mechanism may be monstrous, but to those people, it got them through another night, so it must be right.
At this point, it's tempting to fall into an Old Testament understanding of wickedness as shown in the Romans passage above and miss Jesus' example of compassion on the teeming crowd. Jesus could have condemned all those wanderers, but instead, He taught them. He gave them something they didn't have. He gave them a better way to cope, a perfect way: He gave them Himself, both in that moment and, later, on the cross.
Too often, Christians want to change people's coping mechanism by loading down those people with all the bad news and none of the Good News. We want to act as judges. We want our own sinful coping mechanisms validated, and nothing feels better than wallowing in self-righteousness.
But that's not how it works. This is how it works:
For the love of Christ controls us, because we have concluded this: that one has died for all, therefore all have died; and he died for all, that those who live might no longer live for themselves but for him who for their sake died and was raised.

From now on, therefore, we regard no one according to the flesh. Even though we once regarded Christ according to the flesh, we regard him thus no longer. Therefore, if anyone is in Christ, he is a new creation. The old has passed away; behold, the new has come. All this is from God, who through Christ reconciled us to himself and gave us the ministry of reconciliation; that is, in Christ God was reconciling the world to himself, not counting their trespasses against them, and entrusting to us the message of reconciliation. Therefore, we are ambassadors for Christ, God making his appeal through us. We implore you on behalf of Christ, be reconciled to God. For our sake he made him to be sin who knew no sin, so that in him we might become the righteousness of God.
—2 Corinthians 5:14-21
The ministry of each Christian on this planet is what you just read: help reconcile people to God. In doing so, God will work out new coping mechanisms in the lives of lost, broken, sinful people. And again, what is that coping mechanism? Himself. God gives people His Son through the indwelling of the Holy Spirit.
The best place for any Christian to begin in this ministry of reconciliation is to acknowledge his or her own need to be reconciled to God. The Christian must see that in God exist all the answers to how we should and should not cope with an existence tainted by our own grab for power, by our sin birthed long ago in the Garden and now at work in our lives, battering and bruising us. We must recognize that both our enemies and our friends are driven by the same basic failing. We must see that everyone needs reconciliation, not just the people who bother, oppose, and persecute us. It is our mutual dunk in the cesspool that unites us in our need for reconciliation to God. It is this realization that should humble us.
Christian, are you a source of reconciliation or a source for division? Yes, Christ brings a sword that divides even families, but that's His role as Lord. Your role is to be an ambassador. And if you are ministering reconciliation and Jesus should step in and bring that divisive sword, that's His prerogative, not yours. You work for reconciliation. Bring healing. Work for peace. Build bridges. Be the calm in the storm of other people's lives.
Manifest the ministry of reconciliation wherever you go. Allow the Holy Spirit to show you how in the lives of each person you meet each day. It's not hard. If anything, the most countercultural activity we can do for the Kingdom within this age is to be kind to others at all times. It's not hard to be kind. It's a choice, and God can empower us to choose it.
When we interact with another person, remember that he or she is just trying to get by. What better example of coping rightly would God have you demonstrate to that person? How can you show that person the better way that is Jesus Himself?
It's really so simple.