Ever drive by one of the new breed of churches and think, It's just a big, ugly box ?
Ever wonder why what passes for Christian art in most Christian bookstores is only a step or two removed from velvet paintings of Elvis?
Ever wonder where the great contemporary Christian literature vanished to?
I think about that last one a lot. As a writer, I struggle with the dearth of avenues for Christian fiction that veers outside the mainstream. I recently wrote a story called "Killing Lilith" that deals with the crushing load of sexual guilt that many men carry. Not only does that story suffer from being brutally frank, but it's a short story, a form of fiction that lies in a coma in secular realms, and has been dead, buried, and its grave trampled in Christian ones.
If you struggle with fasting, write short fiction for the Christian market. Just be wary of the tendency to starve to death. 😉
I hate to see loss of imagination triumph in the Church. I meet too many Christians who long ago relegated creativity to the devil. It saddens me to no end to encounter dull, lifeless children from Christian homes who have had the imagination beaten out of them, who if asked, "Tell me a story," can't dream up one. Somehow we've gone overboard in rooting out "vain imaginings" and removing any and all things that stem from our "deceitful hearts," never questioning whether we have to throw our minds out altogether or if our imaginings and hearts can be redeemed.
So in our purges, I wonder if we've left Christianity a shell of what it's supposed to be.
What should we think when God demands the finest craftsmen for His OT tabernacle and temples? That He asks that the lampstands around His altar be crafted in the likeness of almond branches and their blossoms? Or that He chooses men to write down His inspired words of Truth in a wealth of styles?
I can think of few things more appalling than ugly churches. I mean, if we're going to spend millions on building a church building (and there's an ethical question for you), what could be worse than spending all those millions on something that's ugly as sin, an edifice glorifying mediocrity? Whatever happened to building that building to the glory of God and making it look like something honoring a supreme and majestic Lord?
And why so much bad art in Christian circles? It's okay if Thelma Lou Posey makes a cross-stitch of the ubiquitous "Footprints" poem and sells it as a church auction,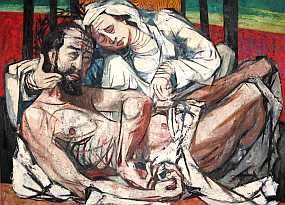 but God forbid if some trained Christian artist creates a challenging oil painting and asks for support.
I wrote a couple weeks ago in my "100 Truths in 30 Years with Christ" post that we need to honor our artists and intellectuals as highly as we do our pastors and preachers. Are we? If we were, what then explains the stifled creativity that inhabits the Christian circle of influence? Why such lowest common denominator art and expression? Shouldn't we be the ones who foster imagination and the creative spirit?
One of the most underappreciated aspects of us being made in the image of God is that God is a creator at heart. Therefore, so are we.
If we can't evangelize that truth as much as some of the others we so readily support, we'll wind up impoverished people. I can't help but think that if the world saw that Christians led the arts again, they'd be more open to the Gospel.
Yet what would do they think when they encounter a huge multi-million dollar building of cinder block and corrugated metal passing itself off as a church? I know that I don't immediately think, That's where life, redemption, and joy happens.
It's tough to be in the arts and know that few of your tribe value your work enough to pay you to do it. I'm struggling now to know what to do with the short story form, one that I enjoy writing but pays nothing. When I think of God demanding only the finest artisans for His works, I wonder how we got off base.
I wonder.
Update…
Additional links from previous Cerulean Sanctum posts on this issue: