Too much of what passes for Christianity in the West is not of the Spirit but of the soul. It's the Christianity of dynamic personalities, brilliant thinkers, assertive leaders, and so on. But little of it is of the Spirit of God. If you read my previous post on this issue, you'll know what I mean
One of my favorite authors is Watchman Nee. He provides a uniquely Asian perspective untainted by Greek thinking. For that reason, he comes out of left field for many Evangelicals ill-equipped to process his writings. I think the following, from Nee's The Release of the Spirit can be understood by anyone, though:
How do you react to this message today that your outward man seriously interferes with God and must be broken by Him? If you can begin talking about it freely and easily, it surely has not touched you. If, on the other hand, you are enlightened by it, you will say, "0 Lord, today I begin to know myself. Until now I have not recognized my outward man." And as the light of God surrounds you, uncovering your outward man, you fall to the ground, no longer able to stand. Instantly you "see" what you are.

Once you said you loved the Lord, but under God's light you find it is not so-you really love yourself. This light really divides you and sets you apart. You are inwardly separated, not by your mentality, nor by mere teaching, but by God's light. Once you said you were zealous for the Lord, but now the light of God shows you that your zeal was entirely stirred by your own flesh and blood. You thought you loved sinners while preaching the gospel, but now the light has come, and you discover that your preaching the gospel stems mainly from your love of action, your delight in speaking, your natural inclination. The deeper this divine light shines, the more the intent and thought of your heart is revealed. Once you assumed that your thoughts and intents were of the Lord, but in this piercing light you know they are entirely of yourself. Such light brings you down before God.

Too often what we supposed was of the Lord proves to be of ourselves. Though we had proclaimed that our messages were given by the Lord, now the light of heaven compels us to confess that the Lord has not spoken to us, or, if He has, how little He has said. How much of the Lord's work, so-called, turns out to be carnal activities! This unveiling of the real nature of things enlightens us to the true knowledge of what is of ourselves and what is of the Lord, how much is from the soul and how much is from the spirit. How wonderful if we can announce: His light has shone; our spirit and soul are divided, and the thoughts and intents of our heart are discerned.

You who have experienced this know it is beyond mere teaching. All efforts to distinguish what is of self and what is of the Lord, to separate what things are of the outward man from what are of the inward man—even to the extent of listing them item by item and then memorizing them— have proved to be so much wasted effort. You continue to behave just as usual, for you cannot get rid of your outward man. You may be able to condemn the flesh, you may be proud that you can identify such and such as belonging to the flesh, but you still are not delivered from it.

Deliverance comes from the light of God. When that light shines, you immediately see how superficial and fleshly has been your denial of the flesh, how natural has been your criticism of the natural. But now the Lord has laid bare to your eyes the thoughts and intents of your heart. You fall prostrate before Him and say: "O Lord! Now I know these things are really from my outward man. Only this light can really divide my outward from my inner."

So it is that even our denial of the outward man, and our determination to reject it, will not help. Yes, even the very confession of our sin is for naught, and our tears of repentance need to be washed in the blood. How foolish to imagine that we could expose our sin! Only in His Light shall we "see" and be exposed. It must be His work by the Spirit, not our efforts of the soul—that is, not out of our own mind. This is God's only way.
That so few Americans (or Westerners, in general) get to that stage of brokenness is one of the tragedies of contemporary Christianity.
Why do we run away from from the kind of brokenness that allows us to stop operating out of our soulish man and operate our of our spiritual man instead? A few causes come to mind:
We are too dedicated to making money and not so interested in growing in Christ. Yet to be spiritually mature, we cannot serve both God and mammon.
We love our way rather than God's way because God's way may ask more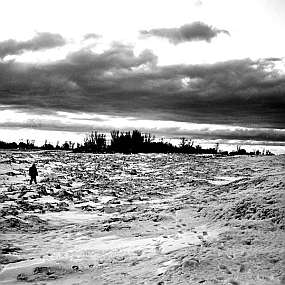 of us than we care to surrender.
We don't believe the Bible when it says that the life of the spirit trumps the life of the self.
We are too busy with foolish, perishing things.
We hate silence because the Lord may speak to us in a whisper and reveal how meager we truly are.
We don't believe that the Body of Christ is necessary, that we need our brothers and sisters in Christ just as the eye, hand, and heart need each other. We would rather be unmovable, unteachable, self-sufficient islands.
We love our religiosity, even if it takes us away from God and leads us away from brokenness rather than toward it.
We treat the Holy Spirit as an optional, impersonal force rather than as a necessary, fully-vested person within the Trinity who differentiates the Church from the rest of the world's religions.
We are unwilling to lead a life that depends on the Spirit of God for each second of our existence because such a life feels "risky."
We fundamentally don't believe God is real, that His promises are true, and that He offers a better way.
So we love our souls but not our spirits. Therefore, we live a sort of half-born-again life.
The cry of each man and woman's heart must be "Lord God, break me down so that the light of Christ's Spirit shines through me like a beacon. Not my will, but yours be done. Not my soulish effort, but the work of your Spirit. Let me be led by the Spirit at the cost of everything else in my life."
May that be our prayer at all times.
I look around I see a Church in the West led by soulish people and not spiritual people. People who don't know the voice of the Lord through the Spirit. People who are adrift for that reason, making it up as they go along, relying on their personalities and talents to minister. People who are destined to fail for that reason.
What breaks my heart is that there are so many of us.