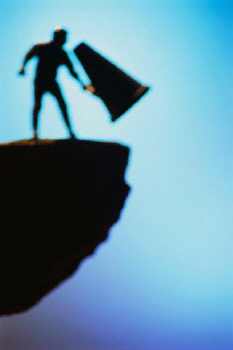 This series has proven to be popular and some have suggested it's too early to be concluding it. No doubt there are dozens of hidden messages we Christians send along with the Gospel, confusing its purity, especially in the ears of the lost. Stepping back and analyzing what we say and how we say it should be an essential part of all we do. We live in an age when truth is lacking or is filled with so much noise as to be obscured altogether, so diligence in keeping the Gospel free from extraneous garbage has never been more needed.
A commenter wondered why I did not talk about the mixing of the Gospel with political messages. That's a good one that I should have discussed, so I'll give it a few words. Personally, I believe that neither of the two major parties in the United States is pursuing righteousness in governance. Aside from one or two important hot-button issues, both the Democrat and Republican parties are so highly compromised on truth that Christians should avoid the rah-rah tendencies we might have to wholeheartedly advocate either. This is not a call to drop out of the proper role each citizen has to utilize the freedoms this country affords, but to always vote soberly and with the understanding that political entities will, by nature, always be compromised. Blending the pulpit with politics will always degrade the Gospel message. Ultimately, the Christian's allegiance is not to kingdoms of this world. When we forget that, we go off-message.
It was suggested that something be said about denominationalism, while another commenter noted that most denominations operate by emphasizing one aspect of the Gospel over another. I believe that is largely true from my own experience. Balance is needed at all times lest the Church of Jesus Christ operate more like the seven blind men examining the elephant. Each man thought his description of the mysterious beast most apt, but each fell short of understanding. It is a sad truth that the Church in America lurches from emphasis to emphasis, but I don't have any answer for this other than to speak to individual Christians and exhort them to consider what all the major Christian voices are saying and try to find the middle ground without compromising on truth. Christianity, while it does make exclusive truth claims, walks a narrow road between extremes of practice and belief. We Christians today need to stay doctrinally pure, but also understand the competing ideals within different denominations that might exist to make us more fully rounded in the Lord.
I think I need to move on to other things, though, so in ending this series I have only one further comment.
Of all the hidden messages of American Christianity, none is more hidden than you and me. While it is a cliché to say that you and I might be the only Jesus that some will ever see, it's a good cliché to remember. What we are, no matter how young or old in the Lord we might be, reflects out to the dying world. Of all the hidden messages then, none is more important than how each of us personally reflects Christ and His Gospel. Understanding where we need to improve in our own transmission of the pure message is critical. What noise does each of us transmit that shouts out over the Gospel message, obscuring it? Does our self-righteous cause others to turn away from the Lord? Does our lack of knowledge of the Scriptures make it seem that we're not all that interested in knowing what we supposedly believe, even as we try to tell others that they should believe as we do? Does our forgetting our neighbor in his time of need speak more words to him than our attempts to share the Lord? What are our own lacks that blur truth with lies?
In the end, the hidden messages of American Christianity start and end with the way we live out the Gospel before the dying world. That calls for us to soberly consider where each of us has compromised the message by the ways in which we live. That will look different for each of us, but no matter the case, God is greater if we only let Him be:
The word that came to Jeremiah from the LORD: "Arise, and go down to the potter's house, and there I will let you hear my words." So I went down to the potter's house, and there he was working at his wheel. And the vessel he was making of clay was spoiled in the potter's hand, and he reworked it into another vessel, as it seemed good to the potter to do.
—Jeremiah 18:1-4 ESV
The series posts:
1. Hidden Messages of American Christianity: Classism
2. Hidden Messages of American Christianity: Kneeling at the Altar of Excellence
3. Hidden Messages of American Christianity: Correctness Before Love
4. Hidden Messages of American Christianity: Pastor O'Gill and the Little People
5. Hidden Messages of American Christianity: "We're Cool, Too!"
6. Hidden Messages of American Christianity: "Family Cocooning Session: No Trespassing Allowed!"
7. Hidden Messages of American Christianity: The Outstretched Hand