I believe it was an International Bible Society study that showed that nearly all people who become Christians do so by age nineteen. That figure stunned me at the time. We've got to get people young, folks. That's why bringing young people to Christ is so astonishingly important.
But another figure hidden in that survey speaks just as loudly. If the average American today lives to at least eighty, the IBS survey also tells us that the person who comes to Christ at age nineteen will spend sixty years or more in discipleship.
Think about that figure—sixty years of following Christ after conversion.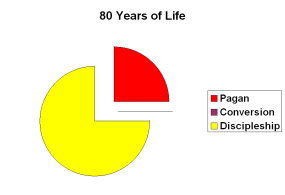 The image at right puts this in perspective. The slice of pie that comprises a person's pagan life before Christ consumes about a quarter of life. Following after Christ takes up three-quarters. The moment of conversion, though crucial, is but a mere slice.
Yet you would think that conversion, that one moment in time, is all there is to the Christian life. Given how we Evangelicals devote so much time, energy, and angst to conversion, you'd think that the sixty years afterward are a drop in the bucket. In the Godblogosphere, the handwringing over conversion (and the theology behind it) weights it even more. Discipleship may seem an afterthought.
I'm saddened when I get e-mails from folks saying all their church ever talks about is getting people saved. Don't get me wrong; it's excellent that churches preach the salvation message. But most of the people in the church are already saved, so what help do they get in actually living out their conversion if they hear the same salvation message over and over again?
The Bible says this:
And this is eternal life, that they know you the only true God, and Jesus Christ whom you have sent.
—John 17:3 ESV

And we all, with unveiled face, beholding the glory of the Lord, are being transformed into the same image from one degree of glory to another. For this comes from the Lord who is the Spirit.
—2 Corinthians 3:18 ESV
I didn't know my wife the first time I met her. In many ways, I still didn't know her even on our honeymoon. Learning who she is will take me the rest of my life because the depth of her personhood will only be revealed in time.
The same goes for Jesus Christ. Most of us have barely scratched the surface of what it means to know Him. Yet the Bible says that knowing Him IS eternal life! It's not escaping hell, it's knowing the person of Jesus Christ. Deep calls to deep. If Jesus Christ and a hundred Jesus impersonators were put into a lineup, would we be able to pick the real Jesus out of the crowd of imposters? Think hard about that question.
Likewise, our conversion to Christ does not end our growth as Christians. Too often, though, our churches act like they have no more to tell us once we say yes to the Lord. "Just don't do bad things now" is the extent of the post-conversion advice.
But the Bible says that we're supposed to be changing from one degree of glory into another, a process that will take our entire lives. That is if we surrender to that process of Christ making Himself in us. For it's His glory that shapes us over those sixty years.
Too often, our discipleship is self-centered. Life becomes nothing more than the avoidance of pain and the accumulation of comfort. But we can't walk the narrow path staring into our navels; we'll wind up in a ditch.
For we are his workmanship, created in Christ Jesus for good works, which God prepared beforehand, that we should walk in them.
—Ephesians 2:10 ESV

And as you go, proclaim, saying, "The kingdom of Heaven is at hand." Heal the sick, cleanse the lepers, raise the dead, cast out demons. You have received freely, freely give.
—Matthew 10:7-8 MKJV

For the Son of Man shall come in the glory of His Father with His angels, and then He shall reward each one according to his works.
—Matthew 16:27 MKJV
If you're a Christian, you're a new creation. And what were you created for? Good works in Christ. The real disciple of Jesus Christ spends his or her sixty years after conversion walking out a discipleship that is other-centric. It's centered on the Lord and on the ones who are dying around us. Yes, we can read great treatises on theology, accumulate vast libraries of Christian thought, attend Christian conferences one after the other, but if we're not freely giving away what we freely received, then we'll spend sixty years wasting God's mercy. Instead, we must be focused on others to ensure that the reward we have in heaven is great.
We all know "Away in the Manger." There's not a three-year-old out there that doesn't learn this Christmas carol first. As a result, few think of it in terms of theological depth. The final stanza says it all:
Be near me, Lord Jesus, I ask Thee to stay
Close by me forever, and love me, I pray;
Bless all the dear children in Thy tender care,
And fit us for Heaven to live with Thee there.
Our sixty years of discipleship is meant for one thing: to fit us for Heaven to live with Christ eternally. What you and I are doing right now in this moment of time is shaping our eternity. Don't be deceived. Following Christ was never intended as fire insurance. Instead, it's meant to remake citizens of Earth into citizens of Heaven.
Are we giving away our life here so we can take on new life? Can we with all certainty pick Jesus out of the lineup? He may not look like an itinerant rabbi, but the homeless man drunk outside our office building. How then will we know Him unless we do the good works that encounter Him? Are we spending all our time looking at our conversion when we should be focused on our inheritance?
Sixty years is at once quite long, yet so very short in the eyes of eternity. In truth, our lives are not so much like a pie chart, but a never-ending timeline that began a breath ago. In a flash comes conversion, but then we live out the eternal consequences of our discipleship.
It's about learning to be a disciple, giving away freely what we were freely given: love, mercy, and grace. Let's not waste our sixty years.