We had to eat lunch out today because of a hurried schedule. Just my son and I, little doubt existed where we'd wind up eating: some fast food joint that stuffs a toy into their kids meal.
My problem comes from knowing how those toys come to be.
At one time, middle-class Americans made those toys. Now they're made by very young adults (and in most cases, children, as some estimates say up to 250 million children between five and fourteen-years-old slave away) in factories in countries many Americans can't find on a map. The factory owners house them in barracks where they sleep head to toe. They work twelve to sixteen hour days, seven days a week, 365 days a year, and even on their limited breaks are typically not allowed to venture off the factory property without supervision. In truth, they have nowhere else to go. Worst of all, if we found the kind of coinage lying on the street that those workers make as their hourly rate, we'd think it not worth the risk to bend over.
While some may say that a few cents on the dollar goes a long way in one of those countries,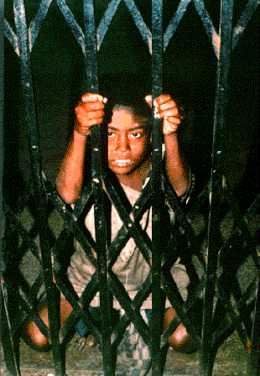 most of those factory workers have to pay for their food and lodging in the factory barracks. That rent may equal their pay.
They are 21st century indentured servants.
Some of these workers drop dead from overwork. They live in constant fear they may get ill, won't be able to keep up, and will be replaced. We in the West may talk about failure not being an option, but these poor unfortunates live it.
They have no voice.
They have nowhere to turn.
They have no future.
They have no hope.
I've talked to missionaries who say that this kind of factory work may be the one thing that will stymie the revival going on in many of those lands.
Think about that for a second. So my kid and yours can have a toy in their kids meal. A toy they play with for fifteen minutes before it's buried under a sea of other forgotten toys in an overflowing chest.
And it's not just kids' toys. It's grownups' "toys," too.
Anyone out there heard a sermon on this lately? Anyone? Bueller?
I'm not a stupid person. I can do a reasonably good job positioning Ivory Coast, Togo, Sierra Leone, Gambia and the rest of eastern sub-Saharan Africa in their proper positions along the coastline. Singapore and Sri Lanka? Easy.
But I was stumped when I noticed a pair of pants I wore to church said "Made in Macau." Yeah, I'd heard of it, and could guess it was probably in the Pacific somewhere, but that's as close as I got.
If I don't know where Macau is, do I really care to know that some fifteen-year-old girl in a 95 degree sweathouse making fourteen cents an hour during her thirteen-hour day stitched the pants I wore to church to worship God?
You see, our excess costs something. We may never see where the thing in our hands was made or the semi-slave who made it, but God does.
It's devilishly hard to say no to one more bauble, isn't it? Large multinational corporations (who play shell games with their headquarters' addresses to avoid having to answer for the way they treat that 15-year-old Macau girl) pride themselves on the fact that you and I don't really care where it came from or how, just so long as we can get it cheap. And get it in neverending quantities.
I don't sleep well at night much anymore. These things trouble me. I think they should trouble all of us. But they don't. Not really. Out of sight, out of mind.
I won't go into how all this damages the United States economically in the long run. That's another post. But I do want us to think about our Christian responsibility to stand for justice. If our rampant materialism creates injustice, then we Christians should be on the forefront of speaking against it.
I look around at all I have and anymore it just sickens me to know that most of it got into my hands in a circuitous route that should have me weeping at who did what to whom and how. I'm going to have to answer for that some day.
This is why I'm trying to live with less. I won't buy something unless I'm replacing what wore out. And even then, some items I simply won't replace. I'm going to try to buy American if possible, to keep jobs in a country that still has some labor laws to protect people. If I need to buy two pairs of shoes, I'll forgo one pair if it means spending a bit more to keep my neighbor from losing his job. Maybe that will send a message to those corporations paying slave wages in some country I can't place on the map.
As Christians, we need to be more vocal about justice in work. I've posted quite a bit about unjust work situations in this country, but it's even worse overseas. Our materialism makes it worse. For this reason, we can't keep silent.
Whoever closes his ear to the cry of the poor will himself call out and not be answered.
—Proverbs 21:13