I used to live in a little cabin in the woods. Just me. I would walk there after quitting time, cook my meal for one, hand clean and dry my dishes, and settle in for the evening.
That simple housework amid solitude proved to be some of the holiest times I've experienced in my life. To this day, I can think of few mountaintop experiences with God that matched the simple joy of making food and cleaning up afterward in His presence. It was slow work, never hurried. While it asked for concentration on the task, I never felt overwhlemed. I did, however, feel holiness in the moment.
Something in those basic, careful actions in a quiet cabin in the woods centered me on God. He was there. Always. I could feel Him connecting with me in my doing.
I don't believe most people today ever experience that kind of focused yet unhurried connection with God in their work. It's one reason why so many people see their jobs as soul-inhibiting. Paycheck, yes. Personal meaning, no.
Much has been written concerning the recent New York Times piece on the frenetic atmosphere at Amazon. Frankly, I think many people will wonder at the singling out of Amazon, given how blender-like corporate life has become for everyone.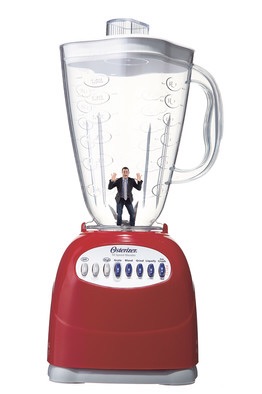 What's the most commonly used phrase in job postings today? I'll cast my lot for fast-paced environment. It's ubiquitous, a badge of corporate honor. Businesses stopped pushing the blender's Stir button and progressed with boasting to Liquify.
What's being "liquified" is people.
Let's get real here: Fast-paced environment most likely expresses itself as a needlessly disorganized workplace that is understaffed and poorly managed at all levels due to horrendous forecasting and unrealistic expectations. Companies use that phrase with pride when they should instead be soberly calling it failure and correcting it.
Yes, I went there.
I'm not alone, though, as the NYT Amazon article and this one, "Work Hard, Live Well," show us. Our harried work lives are getting noticed as a negative. Finally.
Beyond our jobs, the general pace of life is killing us as well. Too much incoming data to process. Too many commitments. Too much striving to stay on top. Too much structure to maintain. Too much need to control. Too much.
We can't live in a perpetual state of being overwhelmed and still maintain our mental and physical health. It's time to stop lying to ourselves about what we can and cannot do.
We were not created by God to be little flesh-bundles of process optimization. Being counts as much, or more, than doing.
The blur that is our daily existence leaves no room for God. This lie that we can cram an entire day's spirituality into a 15-minute quiet time is just that: a lie. And it always has been, despite whatever some nationally recognized pastor, spiritual leader, Christian author, or life coach says.
Why? Because God is to be found in EVERY moment. In something as basic as cooking dinner for one. Or in handwashing the dishes.
Julie, a friend and essayist in the vein of Annie Dillard, rebooted her Lone Prairie site and elected to hand code the HTML and CSS. Most would say that's the hard way.
But some would contend it's the way God connects with us in our work. It's slow. It may even be tedious. Yet I think that pulling back from the most optimized, GTD-approved way is how we can reconnect with the holiness of our professions. It's how we can slow down enough to find not only ourselves but God.
If we Christians are not the people who stay off the dance floor when the world says mambo or who cannot laugh in the face of demanded mourning, who will?
Christians are supposed to be the most countercultural of all people, yet more often than not, we American Christians, through a grace-less misunderstanding of responsibility, instead lead the parade toward dis-ease.
Slowing down enough to find God in more than just the "holy moments" but in ALL of the day will cost us. It must.
If lost people are going to find God, we Christians must be the examples of how to connect with Him. If we're racing around like headless chickens, we will have no time for perception and observation, either of the natural world which God created or of the spiritual one, where He is found. Neither will we have time to process the crucial connections between the two, where wisdom dwells. We will instead become blind guides. There won't be any counterculture left, only concession to the deaf and dumb spirits of the age.
"I'll rest when I'm dead" is no statement of integrity but of stupidity. Christian, find ways to slow down or risk losing everything that truly matters.
Once off the highway and on the backroads, we'll find God on the curves, near that spot with the stunning vista. Take time to stand there and breathe. That's where redemption abides.