If you are unfamiliar with the works of Douglas Adams, particularly his The Hitchhiker's Guide to the Galaxy series of novels, the title of this post will be inscrutable. What it is supposed to represent is the answer to the most basic question of life, the universe, and everything. What does this crazy existence all mean? Well, 42. In one of the books in that series, that's what a sophisticated computer the size of a planet determined was the answer. Then it complained about the question.
I talked one-on-one with Douglas Adams many times at MacWorld conventions. He was an official "Apple Master," and oddly enough, he tended to seek me out rather than the other way around, perhaps because I worked for Apple and he was able to get tech info from me. Anyway, we seemed to keep running into each other. At one point, he was my favorite novelist. I also learned he was one of the foremost atheists and often spoke to atheist groups around the world. When I talked with him the last time before he died unexpectedly at 48, he was his usual frantic, overworked self. Too many irons in the fire and none of them heating properly. In short, 42.
As a Christian, I don't share Adams's worldview. However, 42 is as good an answer as most people will experience when it comes to trying to find meaning in life.
It's not that life has no meaning. It's only that you and I will drive ourselves insane trying to make sense of anything that happens in this life. Meaning is most definitely there, but not a single person this side of heaven will be able to scry it out.
The wisest mortal who ever lived had this to say about the question of what it all means:
Then I considered all that my hands had done and the toil I had expended in doing it, and behold, all was vanity and a striving after wind, and there was nothing to be gained under the sun. So I turned to consider wisdom and madness and folly. For what can the man do who comes after the king? Only what has already been done. Then I saw that there is more gain in wisdom than in folly, as there is more gain in light than in darkness. The wise person has his eyes in his head, but the fool walks in darkness. And yet I perceived that the same event happens to all of them. Then I said in my heart, "What happens to the fool will happen to me also. Why then have I been so very wise?" And I said in my heart that this also is vanity. For of the wise as of the fool there is no enduring remembrance, seeing that in the days to come all will have been long forgotten. How the wise dies just like the fool! So I hated life, because what is done under the sun was grievous to me, for all is vanity and a striving after wind.
—Ecclesiastes 2:11-17 ESV
Many people would simply fall into despair at that point. But here's the thing: While you and I may not understand from our limited perspective, God DOES understand. He gets it.
God says this:
For my thoughts are not your thoughts, neither are your ways my ways, declares the LORD. For as the heavens are higher than the earth, so are my ways higher than your ways and my thoughts than your thoughts.
—Isaiah 55:8-9 ESV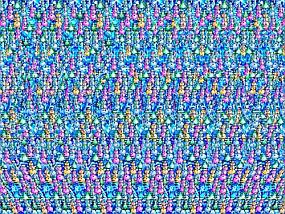 God alone has the perspective needed to make sense of the nonsense you and I experience daily.
We live something of a Magic Eye existence. Our world looks like so much chaos, yet there is order there that may escape us because our perspective is limited by our humanity. Only God sees order in the chaos.
I don't know why some people seem to experience more than their share of chaos. I used to think those people were receiving an extra measure of character building to make them better than those who didn't go through repeated trials. I don't think that anymore.
Some things in life just are—at least from your perspective and mine. Trying to make sense of them will drive us insane, and yet people try. Christians especially try to make sense of life because we feel a need to have to explain everything about how God works to people who don't know or understand Him. Frankly, we might as well try to blow out the sun, because all the explanation about meaning will only lead us to an answer as profound as 42.
It all comes down to this: The only way to navigate life is to have faith in God, to trust that He knows how to make sense of the senseless. Because He does. Even if He chooses not to share that with us. And knowing that truth is what separates the Christian from the atheist, even if they both ascribe to the same puzzlement about what it all means.